Download the live show app!
Related Episode
5/11 UPDATE: If you're going to an encore screening of the show, you still need the app!
Related Episodes
Ira writes:
Hey everyone who's bought tickets to our May 10th live show: if you're an iPhone or Android user, we have a special app we've made, for you to use at a key moment in the show with the band OK Go. It's free. And we think it's going to be really fun. Download links:
If you have friends attending the show, please tell them about the app. The more people who have it, the more exciting this part of the show will be. You can even print out these flyers and hand them out in line!
Important: Don't wait till the night of the show to download the app. Some theaters don't have great cell reception so you won't be able to do it there.
People without smartphones who are coming to the show, don't worry, we have you covered too. You have a key role to play in the moment of iPhone/Android magic that we and OK Go have planned. Just show up wearing shoes and you'll be fine.
If you haven't gotten your tickets yet, find a theater near you and purchase here.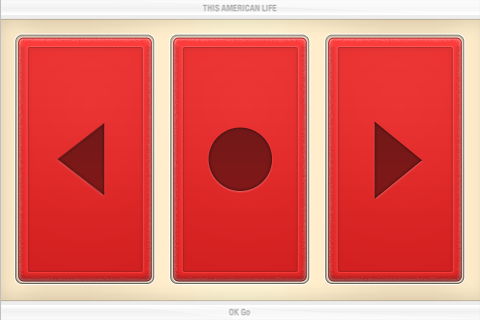 screenshot from the app